80s All-Girl Chicago Punk Band Barbie Army Reunion/LP Release Party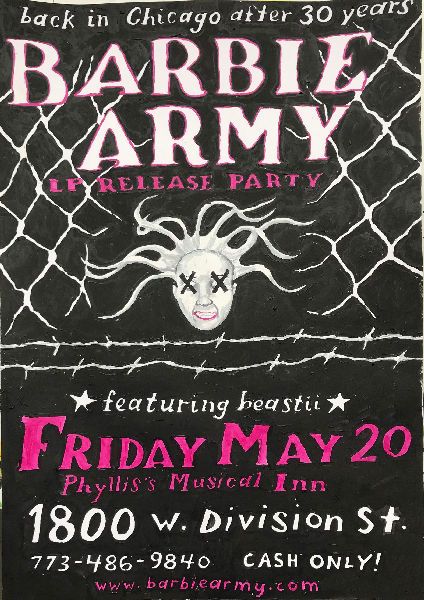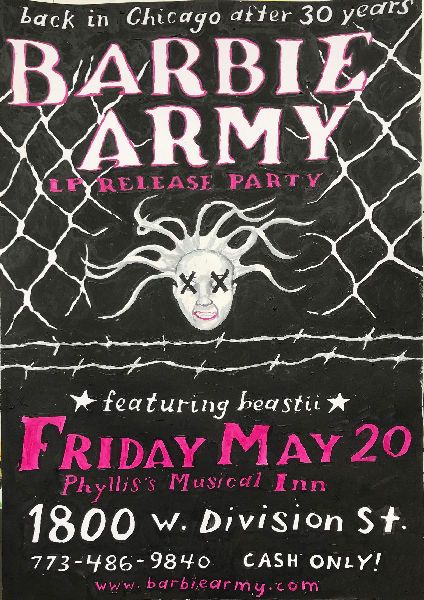 For Immediate Release
80s All-Girl Chicago Punk Band Barbie Army Hosts Reunion/LP Release Party
New LP on Berlin's NoPlan Records to be celebrated at Phyllis's Musical Inn Friday, May 20

What: Chicago 80s all-women punk band Barbie Army will celebrate the release of their deluxe 20-song NoPlan Records LP with a reunion concert
When:  Friday May 20, 2022, 8:30 p.m.
Where: Phyllis's Musical Inn, 1800 W. Division St. Chicago, 60622
Find out more: www.barbiearmy.com

Chicago 80s all-women punk band Barbie Army will celebrate the release of their deluxe 20-song NoPlan Records LP Barbies Don't Bleed: Retrospective 1986-1990 with a reunion concert and party at Phyllis's Musical Inn in Chicago on Friday, May 20, 2022 at 8:30 pm.
The band will pass the torch to a new generation with a performance by Chicago pop-thrash band Beastii (Beings Eternal from Alternate Space Terra II).

Performed between 1986-1990
Formed in Hyde Park in 1986, Barbie Army performed hundreds of shows in Chicago's DIY punk scene, such as Dreamerz, Batteries Not Included, Cabaret Metro, Phyllis's, Club Stodola and the Cricket Hill Peace Fest. The band also performed sets at Chicago blues bars performing as a "punk rock freak show."

The band released some home-brewed cassettes and an EP of music recorded by Lee Pope (ex-Slammin' Watusis) at Jay's Garage and Brad Wood at Idful Studios.

Rediscovered on YouTube
Barbie Army's music was given modern relevance by Chicago punk archival YouTuber "Thirsty Craig" Lindquist, who posted the bands songs online from his homegrown cassette collection. One song, "Don't Wait" has been viewed more than 83,000 times.

"If it wasn't for [ThirstyCraig's] channel, who knows if all this would be happening now," NoPlan Records founder Dario "Adam" Adamic told the Chicago Reader.  "Their music was just too good to only be a YouTube domain."

Along with founders Jean Lyons on guitar and Tina Matlock on drums, the band went through a number of lineups over the years including co-founders Mary Dean (guitar), and Starbuck Avon (bass). Other talented women who played with the Barbies included bassists Glynis Johnson, Lyn Pusztai, Christine "Sixteen" Garcia, Liz Tate, Joan Baby, and Tanya Mushinsky; and guitarists Ellen Phillips, Debbie Jurek and Alaina Lemon.

"Phyllis's Musical Inn holds a special place in the hearts of Barbie Army," said co-founder Jean Lyons Lotus. An image of the bar appears on the band's record jacket. The band has been frantically practicing for the performance May 20.
"Getting together for this reunion show after 30 years is an unexpected treat and we're so grateful for NoPlan Records and Thirsty Craig for dragging our music into the 21st Century," Lyons Lotus said.
For more information contact: Jean Lyons Lotus: barbiearmy86@gmail.com/
---
We are so excited about our new LP on Berlin's NoPlan Records!
Please join us Friday, May 20 for a fabulous LP release party at Phyllis's Musical Inn, 1800 W. Division St. in Chicago at 8:30 p.m. Featuring the fabulous Chicago pop-thrash band Beastii and two reunion sets by Barbie Army.
Tickets are $10 (cash only) at the door.
Can't wait to see you there!